If automatic translation fails to operate, manually select your language in translator
Forthcoming Titles on Perpetual Motion
EEC Series of Books Contaning 18 Volumes

—Francis Bacon -Novum Organum, Chap. CX.


Today those who know Orffyreus and understand his invention; and philosophy are very few, and on this account, his honor is still greater. Truly the treatment which Orffyreus has received from scientist and historians of science and technology confirms the weakness of human mind which is not free from prejudice,bigotry and ignorance to suppress any truth, for their vested interests only.

Let us now praise famous Men

1 Let us now sing the praises of famous men, our ancestors in their generations.
2 The Lord apportioned to them great glory, his majesty from the beginning.
3 There were those who ruled in their kingdoms, and made a name for themselves by their valor; those who gave counsel because they were intelligent; those who spoke in prophetic oracles;
4 those who led the people by their counsels and by their knowledge of the people's lore; they were wise in their words of instruction;
5 those who composed musical tunes, or put verses in writing;
6 rich men endowed with resources, living peacefully in their homes- 7 all these were honored in their generations, and were the pride of their times.
8 Some of them have left behind a name, so that others declare their praise.
9 But of others there is no memory; they have perished as though they had never existed; they have become as though they had never been born, they and their children after them.
10 But these also were godly men, whose righteous deeds have not been forgotten;
11 their wealth will remain with their descendants, and their inheritance with their children's children.
12 Their descendants stand by the covenants; their children also, for their sake.
13 Their offspring will continue forever, and their glory will never be blotted out.
14 Their bodies are buried in peace, but their name lives on generation after generation.
15 The assembly declares their wisdom, and the congregation proclaims their praise.

Another Version of Translation

Let us praise famous men,

and our fathers that beget us.

The Lord hath wrought great glory by them through his great power from the beginning.

Such as did bear rule in their kingdoms,

men renowned for their power,

giving counsel by their understanding,

and declaring prophecies:

Leaders of the people by their counsels,

and by their knowledge of learning

meet for the people, wise and eloquent

are their instructions:

Such as found out musical tunes,

and recited verses in writing:

Rich men furnished with ability,

living peaceably in their habitations:

All these were honoured in their generations, and were the glory of their times.

There be of them, that have left a name

behind them, that their praises might be reported.

And some there be, which have no memorial;who are perished, as though they had never been; and are become as though they had never been born; and their children after them.

But these were merciful men,

whose righteousness hath not been forgotten.

With their seed shall continually remain

a good inheritance, and their children are

within the covenant.

Their seed standeth fast,

and their children for their sakes.

Their seed shall remain for ever,

and their glory shall not be blotted out.

Their bodies are buried in peace;

but their name liveth for evermore.

The people will tell of their wisdom,

and the congregation will shew forth their praise.

.

The Inventor of

Perpetual Motion

Bessler claimed he had succeeded in making "a dead material not only move itself, but lift weights and perform work even the most profound mathematicians and the most learned people have continually fallen into error.".
The text -"Let us now praise famous men" quoted in above frame is taken from the famous hymn "Ecclesiasticus 44:1-15(Sirach)sung in the praise and honour of our ancestors, especially holy fathers- Enoch, Noe, Abraham, Isaac, and Jacob. It is our common tradition to praise popular people,nothing uncommon in it however, verse 9 of the hymn has a strong twist in favor of our unsung hero when it says:

"And some there be, which have no memorial;who are perished, as though they had never been; and are become as though they had never been born."

Especially, these lines reminds me Orffyreus ( 1680 1681*- 1745 ), the inventor of perpetual motion machine. His original name was Johann Ernst Elias Bessler but later he adopted his name as Orffyreus. Unfortunately, he is almost forgotten today. We often honor famous people but many inventors like him, unsung and anonymous were in no way less great than those whom we remember a lot and often raise memorials in their praise. We do not have to study the history of technology very long to be haunted by countless inventors like Orffyreus who are forgotten with no memorial. For example, we do not know the inventors of wheel, windmill, water wheel, and wheelbarrow. Undeniably, Orffyreus nevertheless do live forever in our memory and heart like many other anonymous inventors.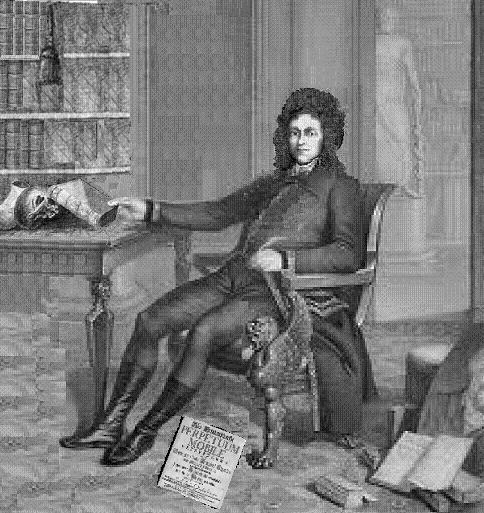 "I, Orffyreus, ask thee the words of our Lord God,
"Are ye also yet without understanding?"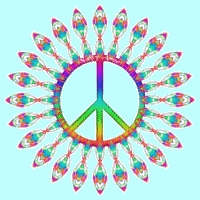 A Brief Overview of the Life of Orffyreus as an Inventor
Today those who know Orffyreus and understand his invention; and philosophy are very few, and on this account, his honor is still greater. Like Orffyreus many other inventors of the overbalancing wheel have had the same doom, they have gone into oblivion and we need to do a lot to bring back the glory they deserve. If Orffyreus is anonymous or forbidden today, he wasn't so around 1711 or later when he was at the zenit of his inventive career. Orffyreus could have been knighted. He could have been buried in Royal Graveyard. His destiny chose none of that. But he'd set the foundations of perpetual motion. He'd fathered the perpetual motion. Germany must be proud of the fact that he was native of it. Orffyreus (1681- 1745),17 - 18thcentury's German inventor of perpetual motion machine, holds an eerie fascination to me. So today, I will tell you true story of this German inventor who sold his soul for perpetual motion. In an odd way, his whole life revolved around perpetual motion. Orffyreus was the one of the rare and best inventor of perpetual motion the world has ever had. His work on perpetual motion machine is unparalleled by any one either before or since. Orffyreus was a man of wide-ranging abilities and interests and, at one stage in his career; he earned his living as physician. He was also considered as a great mechanical engineer. He worked for Count Karl, Landgrave of Hesse Cassel as councilor and general engineer.

The word perpetual motion and Councilor Orffyreus are inseparable. He was an eager student of the 'Hidden Mysteries of Nature and Science.' Guided by his intuitive feeling for perpetual motion, habit of using his intelligence to the utmost, a deepened common sense, reliance first and then on the observation and experiments, this remarkable man conceived, invented, and demonstrated a number of perpetual motion machines to renowned man of science at many towns in Germany. His last and the largest machine was demonstrated at the castle of the Weissenstein in 1717. Board of examiners was convinced that his machine was a true form of perpetual motion. Unfortunately for many reasons, his claim as an inventor of perpetual motion machine has been put aside and thrown to the dust bins of history along with all other hoaxes frauds, mysteries and fakers whose lives occupy the archives of many a dusty shelf in the museums through out the world. History has wrongly convicted a genuine inventor and an innocent man. All of the evidence about his machine faithfully recorded in his time support the conclusion that Orffyreus was a genuine inventor who solved the riddle of the perpetual motion machine about 300 years ago, but his personal character has intensified the doubts, his contemporaries did not realize the full importance and value of the invention. "Orffyreus' work on his perpetual motion machine could have considerably extended our horizons in physics - and in technology too. But at this particular crossroads, mankind took a wrong turn.." says George Egely, the author of the book "Forbidden Invention"

Perpetual motion is like a beautiful woman. No matter cautious and careful she may remain most of the time, she is likely to get into the trouble at any time for no fault of her own but only because she was born beautiful by Nature. Wicked and malicious man would try to possess her using all illegal means. Similarly, perpetual motion is type of invention which itself is source of trouble for its inventor, as it would cause envy, antagonism, and hostility among the people. Perpetual motion machine is likely to mushroom hundreds of opponents who would like to possess secret of its working mechanism by hook or crook. We know any time a big fish can eat little one and destroy all her dreams- this is law of nature. Orffyreus' story illustrates the same point.




Orffyreus' genius was one of the manifestations of the age's vigour and drew nourishment from its extraordinary fertility. Orffyreus was a God sent member of that group of architects who had a dream of constructing the framework of our material civilization setting the stage for the drama of modern life based on free energy and power from nothing. Orffyreus came at the scene to set a revolution in mechanics about the same time when 75 years old Newton had established himself as a big authority in mechanics. It is intriguing to see that Newton's laws of motion stand contrary to perpetual motion. It was the time when various concepts of mechanics were still in process of development. Today we have well defined concepts of energy, momentum, work and power, but these terms and concepts either didn't come into existence or were poorly defined at the time when Orffyreus built and demonstrated his wheels. There was no uniform agreement among the scientist over these concepts and with different notions; they used different terms like impetus, vis viva etc to define quantitative aspects of motion. In Orffyreus times, steam engine was also in process of improvements. He was a pole apart from the view which eminent scientist held in his time, both in his conception of perpetual motion and in his conception of the means to achieve it. Scientist in Orffyreus' time had an opportunity to learn perpetual motion from him but he never disclosed the secret to anyone without getting his reward. With development of steam engine, though science claimed to take shape as the companion of technology, without perpetual motion it was always lame. Later, by rejecting perpetual motion and promoting laws of thermodynamics, science fell into a grave error!

No man in the history took a more prominent part in the discovery of perpetual motion machine than did great Orffyreus. One cannot help feeling that man like him is born once in many centuries. Indeed, they come to fulfill a specific mission. To Orffyreus making new designs of the machines was not just a hobby, but also a passion. He was an extraordinary person, in fact, a genius who worked hard and devoted his whole life to the noble cause of perpetual motion, just for the love of it and love for understanding the Nature and its great secrets. His work makes it clear that his genius was no pretense. He produced a whole set of directional and non-directional perpetual motion wheels. He built several "perpetual motion machine" that ran on gravity. His musical inventions included an organ.

Orffyreus called himself a physician and sometimes a mechanic. He went on building and building but his mind was taking him where no inventor had gone before. He was drawn to the new source of power- gravity. He tried hard to obtain perpetual motion. Only after many many false starts and ineffectual attempts, he succeeded in his difficult venture. Bessler claimed he had succeeded in making "a dead material not only move itself, but lift weights and perform work even the most profound mathematicians and the most learned people have continually fallen into error". He built several wheels and demonstrated them at several places in Germany. In his life time everywhere examiners wanted to see his theory of perpetual motion machine. They wanted it brought down to the hard earth. But Orffyreus was wise enough not to sell the great secret just for nothing. Orffyreus engine violated all the conventions of the great contemporary engineers. He had a mind larger than life and brain greater than scientist. And the deep joy he gained from perpetual motion was unparalleled. His overbalancing wheel represents a last breath of the soaring medieval imagination. The German scientist and philosopher Leibniz became his friend. ("Qrffyreus est the mes amis"(Wedge, S.16). He had touched Leibniz's heart and head. To save his talents, he brought him to Count Karl, Landgrave of Hesse cassel. He was esteemed and rewarded by Karl, Landgrave of Hesse Caseel., but contemporary scientist were too preoccupied with theoretical questions on perpetual motion to make much use of his profound work on perpetual motion during his lifetime. Een Leibniz himself couldn't believe that perpetual motion is possible. Orffyreus lived a turbulent life at many places in Germany, deeply admired by a few able scientists like Leibniz but also making no immediate impress on Isaac Newton commensurate with his genius. Orffyreus had a tragic career. His ambitions could not be realized. His enemy ridiculed him and considered him as a fraud. He seems to have been unaffected by this. He was aware of the significance of what he had done and was content to let posterity appraise him.

Orffyreus was the first man who realized friction is not the first and any serious problem a perpetual motion machine designer has to face. He was the first to demonstrate that even in presence of the friction perpetual motion machine can do all useful work like raising weights and water from deep mines, bellowing furnaces, grinding grains and doing all milling without feeding on any type of force. He proved that a concoction of motions of gears, weights, and linkages could be cleverly arranged to constitute perpetual motion. He did not forget to emphasize the fact that the entire mechanism that rotates is indeed very simple. By analysis of machine motions, he created a mechanics, which aimed at free power without regard to the expenditure of forces that drive them.




After he invented his perpetual motion machine, Orffyreus spent major part of his life in brooding over his bargain and financial troubles. When he was 31 he dreamed to petition to gain the exclusive rights to a gravity-powered wagon. He and his plans based on perpetual motion mirrored the imagination of the Industrial Revolution but everything failed. His enemies called him insane for his achievements, they alleged him perpetually so Orffyreus set about to vindicate himself by building larger versions of perpetual motion machines. As his personality emerges from the shadows, it reveals qualities we have not seen before in the best inventive minds. Orffyreus was a touchy person. In 1715 while he was struggling to establish his invention with a suitable reward, he said: "Never did I hear a word of praise, though I was criticized from all directions. But I never changed, never once wavered, because a single word could have betrayed my wondrous achievement." He'd genuinely loved the people around him and expected a reward from them, but instead he was deserted for no fault of him, people were indeed very ungrateful to him for what he had given to the world. " I have often had only dry bread to eat and water to drink." complained Orffyreus in the last days of his life. His fellowman saw him dieing in chill, they saw him hungry and crying for bread but no one came to help. He died with his secret and shattered dreams. Beyond that -- what more could anyone suffer!


| Click on Link | Click on Picture to Zoom |
| --- | --- |
| Picture Gallery:Title of Picture | |
History Convicts a Great Inventor
In his lifetime, Orffyreus confronted many enemies.In present time also the treatment handed out to Orffyreus by the historians is one of the worst examples of prejudice. It is not fair; and often marked by injustice, partiality, or deception. It is deplorable that much nonsense; still exist about the evaluation of Orffyreus; rare work. There is no end to the misinterpretations and misapplications of working of Orffyreus wheel and the man himself. Take for examples his 141 drawings. Those who consider him as a charlatan are under wrong impression that he did this in order to render his invention somewhat flexible, so that it could be adapted or twisted to fit almost any real design of perpetual motion machine that would be designed in future. Later in this section, I will endeavor to illustrate that his series of 141 drawings depicts the whole story of his struggle to achieve perpetual motion.

For another instance, W.J.G. Ord-Hume, author of the book: "Perpetual Motion, The History of an Obsession" considers Orffyreus wonderful invention as nothing but trickery.To discredit Orffyreus many historians falsely argue but their arguments only prove their selfish wickedness, foolishness, and ignorance on the subject. After all, deep truths are often embarrassing and cruel as they may shatter current ideology; therefore to find a way to open a dialogue for reasonable discourse on Orffyreus and his perpetual motion is always difficult when one has no direct experience of perpetual motion. Remarks such as Orffyreus was an eccentric turn, that he developed a quarrelsome disposition and became bitter and melancholy may be true to some extent but hold no valid ground to undermine his discovery. With all his faults, I admire and respect him for his invention.Scientists like Newton, Gravesande, Rulers, and other influential contemporaries of Orffyreus who had witnessed marvelous performance of his perpetual motion if had lent their full support to Orffyreus, humanity would have possessed perpetual motion machine and benefited from it right from 1717.It is not difficult to imagine that further advances made after then would have prevented plundering the mother earth for sources of energy and thus saving the environment. Even after a lapse of more than 280 years, no man has been able to reinvent perpetual motion yet.It is strange that in spite of valuable evidence faithfully recorded by great men of science, entire work of Orffyreus has largely been disbelieved and remained undiscovered for more than 280 years.




Orffyreus own book " Triumphans Perpetuum Mobile Orffyreanum ............" gives us complete account of his work on perpetual motion. Henry Dirks work " Perpetual mobile " has served as an important source.

Collin's researches on Orffyreus, published in the form of his book entitled "Perpetual Motion: An Ancient Mystery Solved?" (1997) have largely acquainted people with Orffyreus work and helped them to see the truth. Collin's work is most authentic and eye opener to disbelievers. He has explored the archives thoroughly and devoted more than 10 years of hard work for researching Orffyreus case. A large audience received Collin's book with great enthusiasm. Since then, many have speculated to reconstruct Orffyreus machine but all in vein. So far, no one succeeded to build Orffyreus' wonderful machinery again.




This website on Orffyreus and his perpetual motion attempts to bring out real issues that were not explained before. It is hoped that because of John Collins' research efforts, the studies of Dr. Ramesh Menaria and other Orffyreus' enthusiast, all trace of or hint of deception about Orffyreus' wheel will be removed. All things considered, Orffyreus was a remarkably a great inventor but world has forgotten him. We may not all adopt his conclusions, but his manner of seeking the truth, his self-sacrifice in its pursuit, and his purity of life, are beacons which all can see, and which convey a definite lesson to every one who will open his eyes to see his life and work.


We must be Cautious in Deciphering his Secret Codes of Perpetual Motion
for Getting Unlimited Power
Imagination and discovery, stimulated by intuition and creativity, confirmed by reason, demonstration of experiment, and experience amidst controversy and competition – these are the ingredients of Orffyrus' perpetual motion journey. Orffyreus shows us how his inspiring dream makes him genius in his attempts to build perpetual motion wheels. There is so much beauty and mystery in Orffyreus' life and his works that it inspired C. Zumben, upper mining inspector in Hessen to write a praise poem on Orffyreus.

Records of the teachings of Orffyreus have survived which give clues to some of the simpler parts of his mechanical philosophy. The major secrets were never committed to writing. He never wanted to divulge his secrets to the profane, the result being that when death sealed his lips the arcane died with him. Concerning the secret significance of codes there has been much speculation. Though many interesting points have been made, it may be safely said that with the death of Orffyreus the great key to perpetual motion was lost. For nearly 280 years scholars of all nations have attempted to unravel the Orffyrean skein, but apparently none has been successful.

There is still much uncertainty about facts of working mechanism of his perpetual motion; this view is shared by all true students of the subject. It proves conclusively that it is unwise to make definite statements founded on the indefinite and fragmentary information available concerning the Orffyrean system of mechanical arts. The material which follows represents an effort to collect a few salient points from the scattered records preserved by Orffyreus and others who have since contacted his philosophy. Any attempt at scientific moralizing of Orffyreus journey leads us to conclude that scientific knowledge is hardly absolute. It is continually both created and discovered – a living dyad which for creation relies on epiphany, accident, and inspiration; whereas for discovery it relies on ingenuity", trial and error, and precision.

Many inventors are indeed convinced that Orffyreus' perpetual motion is practical, but they just can't get their head around the fact that it's very simple and follows the laws of Nature, that govern celestial mechanics, especially. Many inventors have invented devices which they developed by claiming to have improved upon the works of previous inventors. Some of the inventors have devised Over-balancing wheel just reading only one or two books on perpetual motion including Orffyreus' books and taking the metaphorical parts of the Apologia Poetica literally. From reading Apologia Poetica or decoding his MT secrets, they continue to invent complicated piece of perpetual motion machines, which are far away from the actions of Nature, and set about doing all kinds of fruitless experiments. They obviously get nowhere, and then decide to tell everyone else how to go wrong too. They're happy to deceive others and pretend they're important.

A further problem is that not all books on perpetual motion are written by people who understand perpetual motion. Since the vast majority of people have no understanding of it, they can't tell the true perpetual motionists from the fakes. What makes this even worse is when real perpetual motionist like Orffyreus himself writes lies and deliberately misleads the unworthy reader, at the same time, prospective inventor of perpetual motion also gets misguided who is really sincere in his quest. So before the beginner can even start trying to interpret his writings, he has to try to work out which ones are honest and which are not. This is too difficult to determine, at least only extraordinary persons have no problem with it.

It is very easy to tell if a procedure to construct Orffyreus wheel is true or not, you just ask yourself the following questions: (1) Do I understand how it works? (2) Do I understand why it works? (3) Does it follow the cycles and laws of Nature? (4) Do I understand basic nature of Gravity? (5) Is my Over-balancing wheel more or less replica of Solar System? (6) Do scientific fantasies and activities of my childhood reflect that I could be an original inventor at this stage? If the answer is "yes" to all these questions, then you're really on to something. If the interpretation is wrong then it won't fit, and so you know it's wrong. Don't overuse your skill of decoding secrets, don't involve in haphazard reading of MT drawings, for this will lead to mental confusion, and finally desperation of ever learning anything. Against the advice of this author, If you still wants to decode and always change your materials and procedure, then, this is all fine and dandy... but don't go calling it final secret of perpetual motion!

With the correct interpretation, as I present in this website, you will understand (1) what perpetual motion is, (2) why it works, and (3) how it works. (4) Where does energy come from? No other interpretation can give you this; they only rely on blind faith, since that is the only way to believe a lie.Notice how I back up any statement I make in regards to perpetual motion theory and practice with several quotes from a variety of sources on perpetual motion . You will not find this with any other interpretation. Notice how I explain not only how perpetual motion works, but why perpetual motion works. Notice how you can actually understand what I say, and it makes sense with Nature. I don't really mind these misinterpretations in a way, since I had no problem understanding the perpetual motion, which I read before any of the modern stuff. But the purpose of my concern here is to put a stop to further disinformation and lies. That being said, since the construction of Orffyreus follow celestial mechanics based on fundamental laws of Nature, and since fundamental laws hold true on every level and every situation, then the same laws apply to the operation of Over-balancing wheel.

Orffyreus' story once again raises the question: How "contingent" is our technological history? "Historical contingency" simply means that if certain things did not happen or that something else could have happened, then, history of technology would have been different. What scientists have today is in part a consequence of what they had and what decisions they took in history. Consensus decision of scientist taken in past to glorify law of conservation of energy and reject and ridicule the art of perpetual motion have maligned the entire history of science and technology.
Remembering Nikola Teslas's Dream of Free Energy
"With regard to using the force of Gravity I have become convinced that one has to understand the deeper metaphysical meaning of forces to create self running or self accelerating devices. This deeper meaning creates oneness with the purpose, function and mechanical design of the device. Any malfunctioning of the device is an invitation to remove a blockage that is present in the team. Therefore making free energy devices is a spiritual practice which brings with it consciousness, humility and the principle of sharing."

- Above quote from Kees Hoogendijk, taken from his e mail to this author. He is associated with "Gravity Assisted Power."



So beautiful! And so suggestive and enlightening words for any one who is involved in unraveling mystery of gravity power!

If you are not interested in philosophical, spiritual and mystical aspect of perpetual motion, you can click on next button below to read the rest story of Orffyreus.
A Brief Note about Rediscovering Perpetual Motion in Light of Vedic Science
I recollect, during early 80s, it was auspicious day of Buddha Purnima. My GURU Deva Ramananda was giving discourse on Budhha to his disciples. When my Guru ended his sermon, I raised some questions to him.

I asked: "My reverend master, you have just said that ignorance is the main cause of all suffering. And you also said that desires and ambitions are the real cause of the frustration in life. But, what about the ambitions of a perpetual motion inventor? Should he cease his quest to invent a perpetual motion machine, as it is often fraught with failures and frustrations? Do you see any truth in claim of Amar lal and possibility of perpetual motion? What about claims of those hundreds of ambitious men who have filed patent applications all over the world? How can Amarlal's claim be false? Should president of India respond and support his invention? Is Government of India going to do any justice to him? Would your majesty personally help the old man and take him out of the predicament?


My GURU began his message with following lines:

"Greed is an evil root. An anvil receives many blows"



I did not understand what he really meant by these words.However, I learned that he preached the Vedic philosophy that man being the abode of gods, being the part of nature must surrender to nature and be one with it, and then nature bestows its rewards to men. Vedic Rhisis inspire to preserve the sacredness of man as well as that of nature. It appears that both have been lost ever since mankind became materialistic as a consequence of the Industrial Revolution. Then, he went on to advocate a patent free philosophy for the invention. Then, from the Raja Bhoja' book "Samarangan Sutradhara", he also described qualifications of an ideal perpetual motion inventor necessary to invent a perpetual motion machine which can help inventor to get success in his mission. He also alluded to Rbhus and their feats of perpetual motion in Vedic times. The over all message contained in his discourse was indeed philosophical and fascinating.



Deva Ramanada said: "Nature bestows its great secrets to only those who sincerely love it, and surrender to it with a pure heart. Those who have greed are doomed to have troubles in their quest. Nature puts inventor under trial before granting some reward, he has to be an invariable seeker and firm in his determination. As an anvil receives many blows to shape something, while moving on his journey of perpetual motion, an aspirant too is tested repeatedly by nature. One must preserve to sustain these blows without complaint until he gets the kingly secret by grace of the Nature. After many years, to my utter surprise, when I found his messege ditto in Orffyreus' Apologia Poetica I found myself somewhat in an embarrassing position. I came to learn that my Guru had already known about Orffyreus and his work many many years ago. Since, I have been a shy man; I could never disclose to my Guru that over the years I had also been in search of the same secret. There was no possibility that any one could tell him about my secret search because I had never told anything about it to any one.




Surya Sidhhanta predicts:


"The Knowledge of perpetual motion is lost at the end of every Yuga. It is rediscovered by astronomer whom God (Sun) pleases!"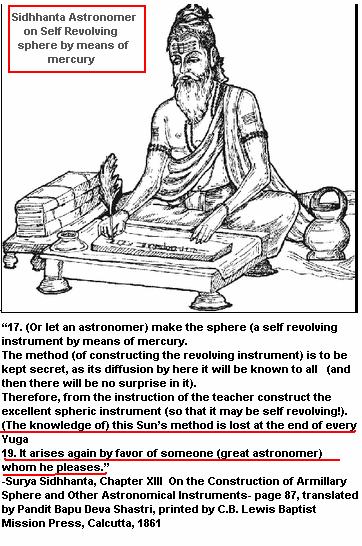 Surya Sidhhanta clearly suggests that perpetual motion is an anointed invention!







We have deeper questions here. Why is the secret of perpetual motion lost after it is invented every time? Why 'Bessler' eventually became 'Orffyreus'? The secret of 'Bessler's perpetual motion, now lost in mist of time, needs to be understood from that of "Sidhhanta" and 'Orffyreus' religious perspective. Otherwise; it would not be possible to understand what the 'Orffyreus' is trying to communicate. There is high positive relationship between sound moral preparations and divine intervention. Today, most of the researchers may know 'Bessler' well but to know "Orffyreus" would still be difficult for them without some spiritual inclination. This is exactly where Deva Ramananda comes to our help. I also believe that he knew "Orffyreus' better than us. Deva Ramananda was the first person in history who applied Vedic principles to reconstruct Orffyreus' perpetual motion wheel by beginning with the design of a "Swastika Wheel" and further detailing the mechanism by relying on designs of Rhisi "Dirghtamas' Perpetual Motion Celestial wheels" which are also great source of astronomical information. It would remain a mystery for me to know how Deva Ramananda could talk so confidentally about 'yoking of spheres and structural details of 'cross bar,' "chords and pulleys" found in "Dirghatamas Perpetual Motion Celestial wheels" descriptions of which also lead us to a crude design of heliocentric system of world (solar system). In fact, very rich in his spiritual powers, Deva Ramananda, I used to note, was so low in mechanical aptitude that it put me to smile or laughter whenever ink ran out his pen and he was looking here and there for help as he had difficulty even in putting a new 'refill' in his ball point pen! He damned little spring and ratchet which came out and his pen did not fit again. Yet, he guided me to explore perpetual motion in Vedas laying equal emphasis on mechanical aspects of perpetual motion. I would say that Rg Veda, the oldest book of natural philosophy by mankind, with its cosmological, astronomical, philosophical and sociological foundations on perpetual motion is a perfect treatise on perpetual motion. It leads to great understanding of natural forces like gravity, electromagnetism etc their functional attributes, operational mechanism, and interrelationship among them hitherto unknown to scientific world. Moreover, Vedic thermodynamics with large number of hymns on Agni (Heat) stands in flagrant contradiction to classical thermodynamics. Indian Sidhhanta astronomers Brihmgupta, Lallacharya (Circa 6th century) and later Bhaskaracharya (Circa 12th century) who rediscovered perpetual motion and proposed first designs of quick-silver driven perpetual motion machine had acknowledged Vedic influence in their astronomical revelations. Similarly King Raja Bhoja's magnum opus "Samarangan Sutradhara," largely a treatise on architecture, which also includes descriptions and method of constructions of various machines and aero planes based on perpetual motion run by quick silver, follows a perfect Vedic tradition. King Raja Bhoja unequivocally declared that "Swayamvahaka sarvotutkristam"- meaning "perpetual motion is the best machine!".

Deva Ramananda describes Bhaskaracharya's wheel in following words:

"Bhaskaracharya in his Siddhanta Shiromani describes a wheel having on its outer edge a number of holes of equal size and at equal distance from one another arranged on two radii in a zigzag manner, in other words there were two circular rows of holes around the wheel. Bhaskaracharya then suggests half filling them with quick silver and sealing them. It was claimed that if such a wheel with its axle was supported on pair of props, the wheel would rotate by itself once set in motion. It is difficult to know whether he ever constructed and tested his device. Tradition was that even if he actually constructed it, it would remain a secret forever."

Referring to Arnold Pacey's book, Wikipedia also states:

"Around 1150, the astronomer Bhaskara Achārya observed water-raising wheels and imagined such a wheel lifting enough water to replenish the stream driving it, effectively, a perpetual motion machine."[i]




Wikipaedia also reminds us Bhaskaracharya's major scientific contributions:

"In many ways, Bhaskara represents the peak of mathematical and astronomical knowledge in the 12th century. He reached an understanding of calculus, astronomy, the number systems, and solving equations, which were not to be achieved anywhere else in the world for several centuries or more."

There is little doubt that Bhaskaracharya's work influenced later developments in the Middle East and Europe. In addition to fascinating mercury wheel, his other works also became known to Islamic scholars and later they were introduced to Europe by the end of the 12th century.[ii]

Inspired by Sidhhantika astronomers, and especially, Bhaskaracharya, Maharaja Sawai Jai Singh II, the ruler of Amber, experimented with a large number of perpetual motion machines. According to Strobl, Jai Singh is said to have spent 50000 guilders on his experiments with perpetual motion machines.

Swai Jai Singh (1688-1743) and Orffyreus (1681-1745) were contemporary perpetual motionists in two different countries. When Orffyreus demonstrated his over-balancing wheel at the castle of Weissenstein in 1717, Orffyreus became 37 year old and Jai Singh 29 years old. We do not know whether Swai Jai Singh knew about Orffyreus' perpetual motion. Swai Jai Singh's (1688-1743) treatise on astronomical instruments, Yantra-prakara, for all intents and purposes was completed before 1724. Jai Singh also received Imperial support for building his Astronomy Observatories at Delhi, Jaipur, Varanasi, Ujjain and Mathura.

Founded on 18 November 1727 by Maharaja Sawai Jai Singh II, the ruler of Amber, the Jaipur (Rajasthani: जैपर Hindi: जयपुर), also popularly known as the Pink City, is the capital and largest city of the Indian state of Rajasthan. The author of this website is also living in Jaipur at present.

Perpetual motion is truly heritage of India. The video clip presented below shows the appreciation of Vedic science by eminent western scholars, and its diffusion around the globe. In this clip you can watch astronomical instrument "Samrat Yantra" built by King Swai Jai Singh at Jaipur, and also a perpetual motion wheel inscription on an old coinage ( i.e. Vasudeva holding a perpetual motion wheel, 180–165 BCE, Coin of Greek ruler, Agathocles with Hindu deities: Vasudeva-Krishna and Balarama-Samkarshana).




References:

[i] Pacey, Arnold, Technology in World Civilization: A Thousand-year History, The MIT Press; Reprint edition (July 1, 1991). ISBN 0262660725. page 36

[ii] See transmission of Vedic science in the video clip presented below.



style="margin: 0 0 0 40px; border: none; padding: 0px;">