Here you will find a brief descriptions of new stuff added to Orffyre.tripod.com.


New subtitle "Perpetual Motion From Repression to Revolution" containing few paragraphs added to the link " A Tribute to Orffyreus"

Coming shortly

South Sea Bubble in details, Newton as Perpetual Suppressor of Perpetual Motion



Johann Konrad Franz von Hatzfeld(1685- 1751)And His Gravity Wheel

Pseudonym: Chevalier Veridicus Nassaviensis

________________________________________


Around 1720-1723, the same period during which the news of the demonstration of the gravity wheel of Orffyreus at the castle of Wissenstein moved various kings and agencies to take interest in the purchase of the gravity wheel, Johann Konrad Franz von Hatzfeld (c.1685–c.1751) was another talented man who claimed to have invented gravity wheel. But, as we shall see, he and his gravity wheel had even worse fate as compared to the Orffyreus. Royal society presided by Issac Newton played major role in debunking and blocking his perpetual motion. His books were publicly burnt and later, for the charges of blasphemy and spreading his radical views, he was sentenced for a life imprisonment!



Hatzfeld described how studying perpetual motion, philosophy, natural science, transformed his own ideas, revolutionized his life, and led him to reject all conventional natural philosophy which was largely governed by dictates of Issac Newton. This inner intellectual revolution, he says, began when Orffyrean perpetual motion caught his attention, for some time it remained hidden and unseen, however, after he himself dedicated to the construction of the gravity wheel and succeeded, his mind was supercharged with philosophical ideas which, outwardly, found expression only after 1723 - 1724 in the form of the publication of the book "The Case of the Learned", about the same time Newton began third edition of his Principia. Hatzfeld was highly influenced by Orffyreus and his gravity wheel. For the sake of his desire to seek patronage of the Royal families and establish the links with intellectuals, he adopted his name as Chevalier Veridicus Nassaviensis, thus, following in the footsteps of Orffyreus. He claimed to have conducted experiments with wheels and weights and arrived at conclusion that a small weight can lift a big weight in a horizontal position on a balance, this very observation led him to the successful construction of design of an over balancing wheel. He `had plans to demonstrate his machine to the Royal society, but, as in the case of Orffyreus, because of Newton's tyrannical tactics and indifference of other scientists around him, his plans to demonstrate and establish the perpetual motion in scientific world suffered forever. Newton even refused to meet him and Royal society did not heed to his appeals. With failure of negotiations of Orffyreus' wheel at Royal society, and his own failure, Hatzfeld righteous indignation was aroused, not only against the pagan worship of Newton, but in passionate defense of Leibniz and Orffyreus. Indeed, as a young man seeking a career, Hatzfeld, buoyed by his Liebnizm and Wolffianism, always aspired to find some role which would enable him to help harmoniously reconcile religion and philosophy. His inner intellectual transformation also convinced him that Newtonian mechanics and philosophy were full of errors and they must be radically reformed so as to conform to natural philosophy and mathematical reason. It was this which led him to his great project of Gravity Wheel accompanied by his thesis submitted to the Royal Society in the form of the book "The Case Of the Learned." He decided to topple Newton's mechanics and philosophy. His book furiously denounced Isaac Newton. The boldness and the clarity of Hatzfeld's thought and the depth of his intuition are nothing less than admirable; the near similarity of his world-view with that of Leibniz, the rival of Newton, is striking.



Newton's 'silence diplomacy' to block perpetual motion was only the tip of the iceberg in Orffyreus' case. If readers do not find the evidence brought forward in preceding pages strong enough to set the question of Newton's direct involvement in obstructing Orffyreus perpetual motion, they will find in Hatzfeld's case a direct involvement of Newton. Some very clearly recorded circumstances give it a strong air of truth, and leads to our suspicion that Newton might have connived deliberately also in the case of Orffyreus to suppress his perpetual motion. After some savvy investigation, I am reporting on new information that has been discovered. Sir Isaac Newton may have been erroneously reported by others as absolutely no party against Orffyreus, but probably, Sir Isaac Newton was behind the suppression of Orffyreus perpetual motion. Information has come to light from sources close to Newton himself. Hatzfeld's case throws an important piece of evidence how Newton and his fellow professors were determined to suppress perpetual motion. Some of his contemporary has rightly called Newton as "perpetual dictator" of the Royal Society. As Deva Ramananda called him; indeed, Newton was also a "Perpetual Suppressor of Perpetual Motion."!



The story of Hatzfeld's perpetual motion turns and twists around Leipzig, Halle, Hague and London and has a very tragic end. It has many common characters and players like Leibniz, Professor Wolff, Rowley, Desagulier and Newton. The span of hotly debated vis viva controversy (or 'la Querelle des forces vives') run parallel to the career of Orffyreus' and Hatzfeld's perpetual motion. The problem of perpetual motion as well as vis viva led to bitter quarrels and factionalism among the scientists and professors that became prevalent in academic life and was the characteristic of the time. The academic disputation whether perpetual motion is possible or not, whether Orffyreus' and Hazfeld perpetual motion were genuine or not, was an arena for conflicting schools of thought mainly headed by Newton and Leibniz in which professional reputations of both were at stake. Most English Newtonians opted for Descartes' Newtonian view. On other hand, Bernoulli aligned with Huygens, both of them with Leibniz and Leibniz against Newton in the dispute about 'forces vives'. In case of Orffyreus' and Hatzfeld perpetual motion, Desagulier aligned with Newton, Professor Wolff aligned with Leibniz. They perpetually pitted and vomited against each other, agitated by a spirit of rivalry and antagonism which both incited students and deepened the strife at the cost of loss of perpetual motion. Such furious divisions inevitably obstructed truth of perpetual motion, disorientated them away from right scholarship conveying the impression to us that a majority of them masquerading as a scientist had no clear grasp of the truth of perpetual motion, they were battling with each other only for their vested interests, greed, name and fame.




300 Annivarsary of Orffyreus' Gravity Wheel


ORFFYREUS DEMONSTRATED HIS FIRST WHEEL ON 6 JUNE, 1712 AT GERA
300th ANNIVERSARY OF HIS PERPETUAL MOTION WHEEL ON 6 JUNE, 2012.
300 ANNIVERSARY SPECIAL PUBLISHED
AN EXTENSIVE WEBSITE ON ORFFYREUS AND ALBERT EINSTEIN
The website was published on 6 June, 2012
/>

Einstein's Theory of Relativity, Perpetual Motion and Vedanta


Einstein's Theory of Relativity, Perpetual Motion and Vedanta
A Critical Study of Albert Einstein's Theory of Relativity, Is it a Religion? His Priest Craft and High Priesthood of Physics that has Kept Cult of Relativist Hypnotized, and the Progress of Physics Stalled for A Century!
In the light of Vedic Perpetual Motion, and Invention of Perpetual Motion by Councilor Orffyreus (1681-1745)


By Dr. Ramesh Menaria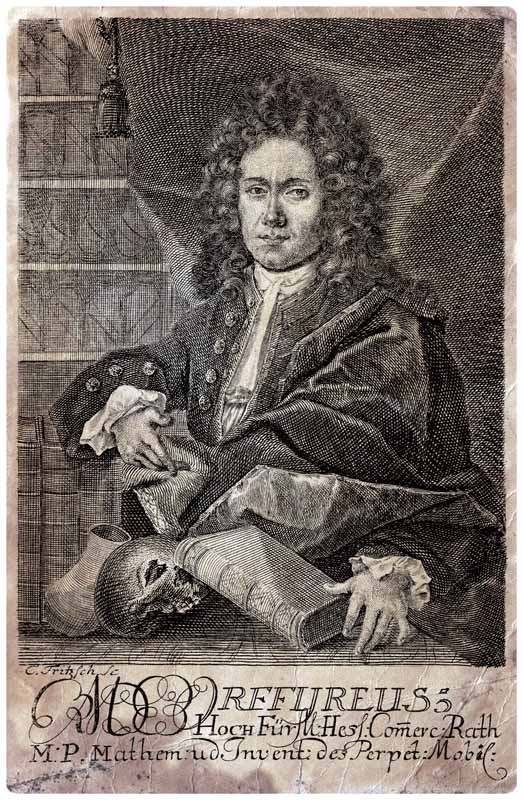 Councilor Orffyreus (1680-1745)